October 2021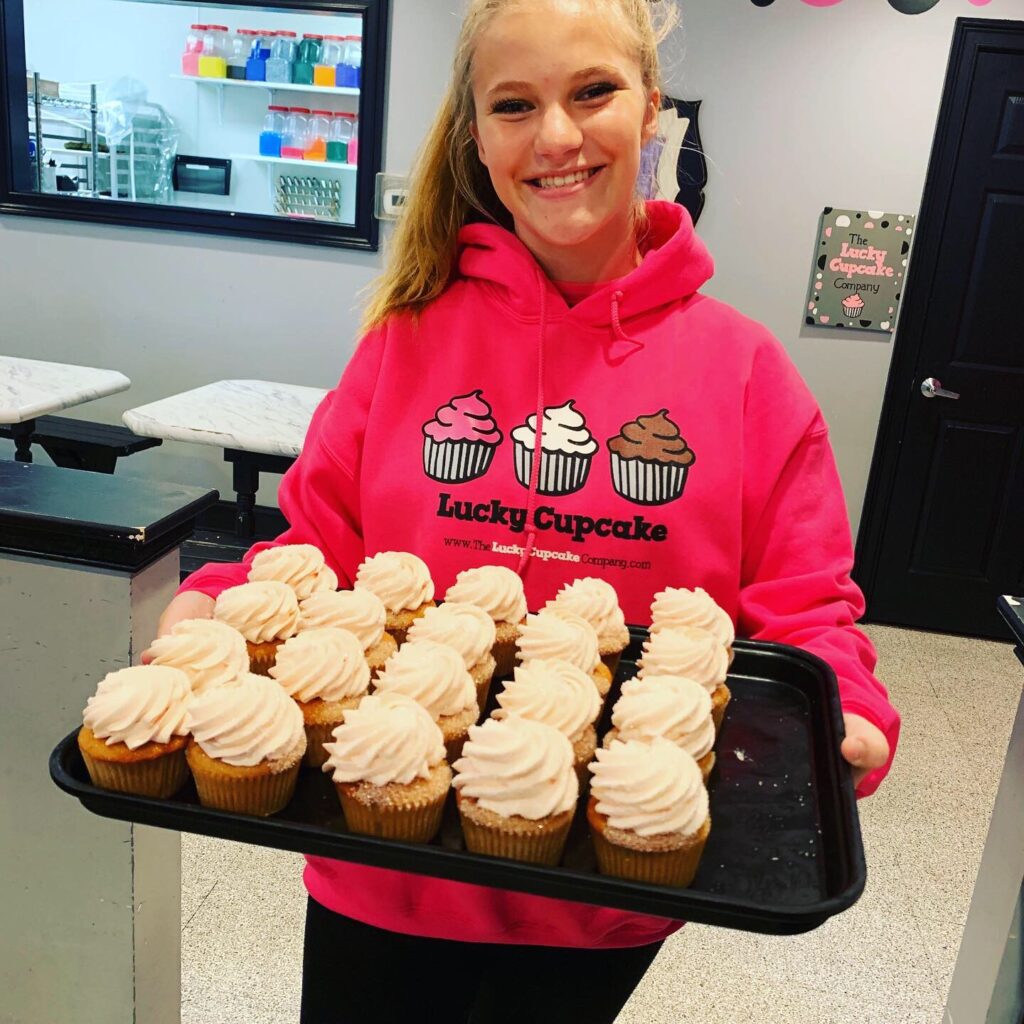 In honor of Breast Cancer Awareness Month, October 1-31, 2021 proceeds of in store sales of select pink items will be donated to the Doylestown based Pine2Pink Foundation. A daily selection of pink items will be available in store while supplies last, but pre-orders are preferred. To place you order on pink items, please call the store at 267-544-5912 or order online.
The Lucky Cupcake is a proud 2021 sponsor of Pink2Pink, a local foundation that "benefits LOCAL Breast Cancer Patients in treatment and recovery."
Book a fun family activity at Shop #74 Sweet Occasions and enjoy this Halloween Gingerbread Workshop. With candy corn, gummies, and glittery sugars, and more….come design and decorate your very own gingerbread house masterpiece!
Some spooky tunes and some hot apple cider will be provided to heighten the festivities. All materials will be provided and house pre-assembled by us. So come work together and enjoy some quality family time with this creative workshop! Costumes or Masks are welcomed of course!
Great for all ages!
Order your Halloween celebration cupcakes, cookies, cookies, cakes, cakes and more! Please order in advance as a limited supplies of Halloween items will be available in store daily around Halloween.
November 2021
Don't miss Zest's Last Event of the Season and their First BYOB! We realize that not everyone enjoys alcohol. But who doesn't love dessert???? That's why we've created a one night only, BYOB* private culinary experience at the sweetest space in the village! Savor the flavors of elevated cuisine expertly prepared by the Zest Chefs with made-from scratch-desserts by our hosts: The Lucky Cupcake Company. Gather your friends and indulge in a 5-course plated dinner featuring Zests' sweet and savory menu complete with The Lucky Cupcakes' confectionary works of art.
Stop by the shop our one of our outside tents during this Peddler's Village festival. Our weekend menu will be featuring an array of apple items including apple cupcakes, apple strudel, apple dumplings, and apple donuts. A select amount of pre-orders will be accepted before November 2.
Get ready to meet and greet and decorate sweet treats with Belle! We are giving you the event to not only decorate cupcakes with the beautiful Belle, but also sing and dance! Belle with have time with all the children as they decorate a delicious themed cupcake and cookie to enjoy! (Courtesy of The Lucky Cupcake Company!) Guests will enjoy a photo opportunity with Belle. There will be story time, interactive games, and dancing! (From Once Upon a Dream Princess Parties). Water, Milk & Some Snacks will be also be served! Kids are encourage to come dressed up in their favorite princess outfit!
Join us as we make a 4″ 3-layer pumpkin flavor PUMPKIN CAKE!
Each guest will get an assembled cake which they will be able to ice & decorate. Techniques will be taught along the way. Fondant will be available for the pumpkin's face as well as other fun & themed fall decorating items! We can't wait to see your final products! Event for ages 12 and up.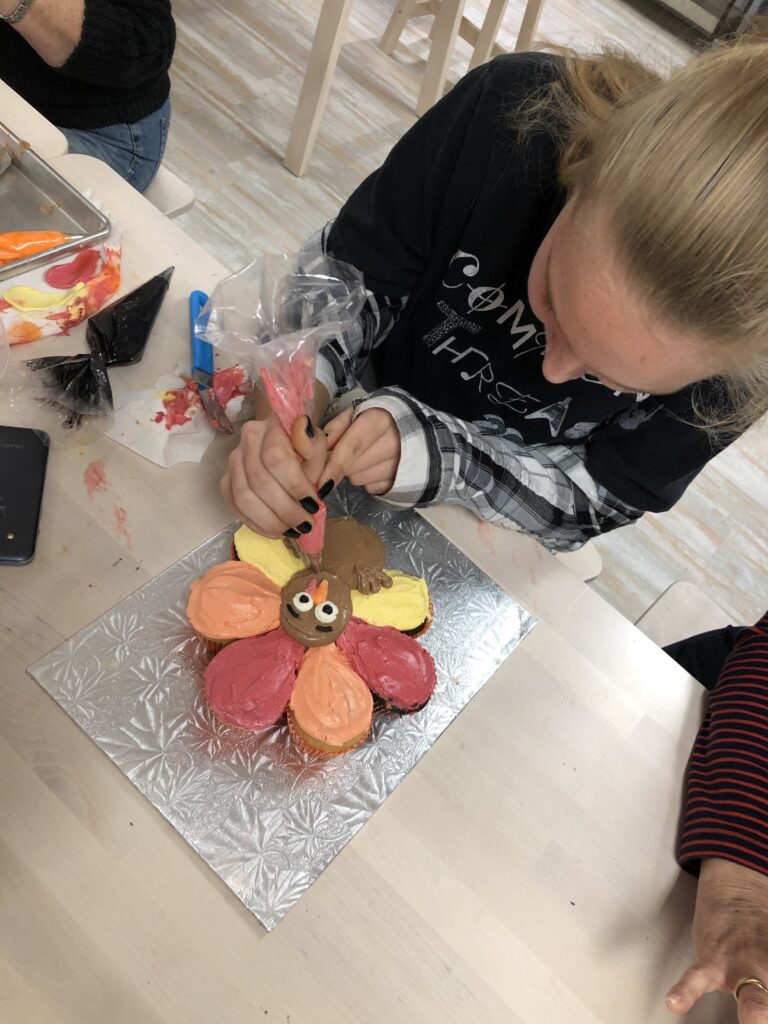 Take your Thanksgiving dessert to the next level by learning tools and tricks to design a yummy turkey. Take home a Turkey Cupcake Cake for the holidays that will surely impress your family and friends! Eight cupcakes will be given to help you recreate a basic design. 4 chocolate cupcakes & 4 vanilla cupcakes! Each guest will add their own special flare and touches to make each turkey unique!
Guests must be ages 8+ to work on their own cake, any child younger than 8 must be accompanied by an adult for assistance! (only 1 ticket needed if adult is helping!)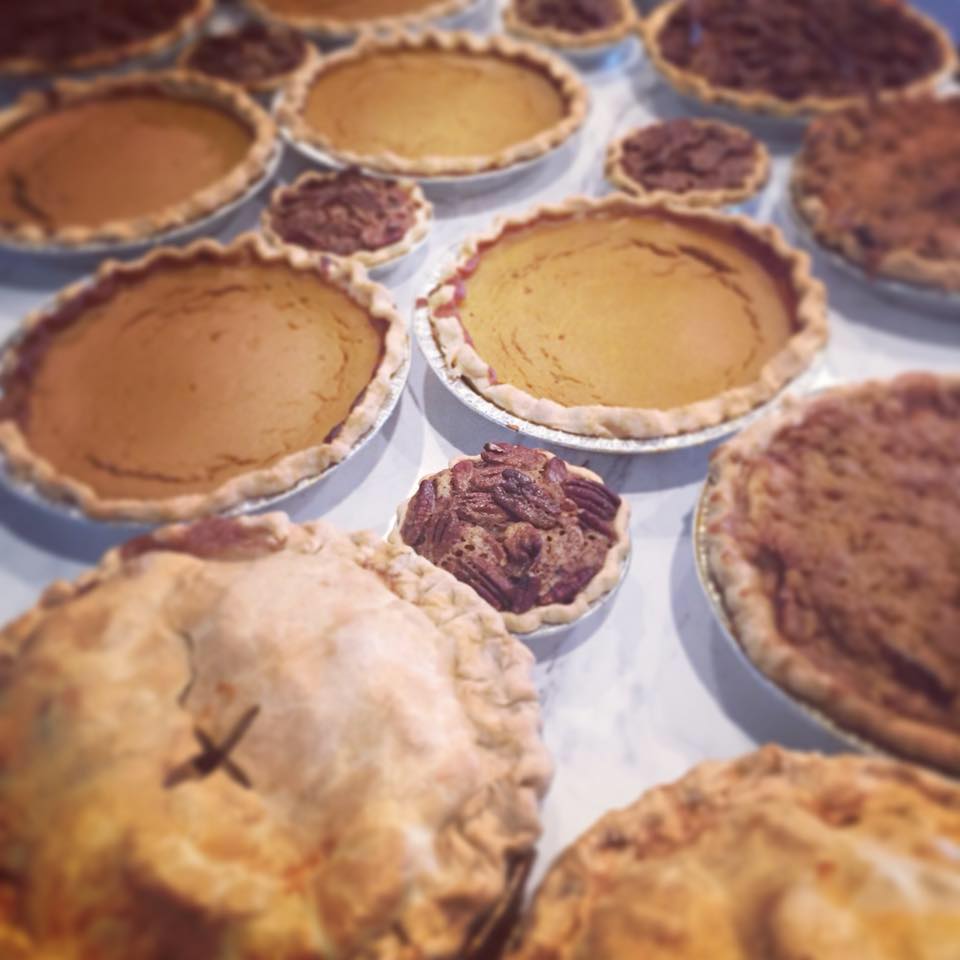 Let us do the baking this Thanksgiving! Orders will be accepted until November 19. Full payment is due at time of order. Please alert us to any allergies! All orders must be picked up by November 24th. The bakery will be closed Thanksgiving Day.
Menu will be announce October 25, 2021.
December 2021
Join us at Sweet Occasions as we kick off the holiday season with a fun & family friendly Christmas Pajama Party! Put those adorable jammies to great use this year! We'll be singing & dancing to all your favorite holiday tunes! Then completing the evening with some festive cupcake decorating provided by The Lucky Cupcake Company! Hot Chocolate & Waters will also be available! Tickets required for ages 1+.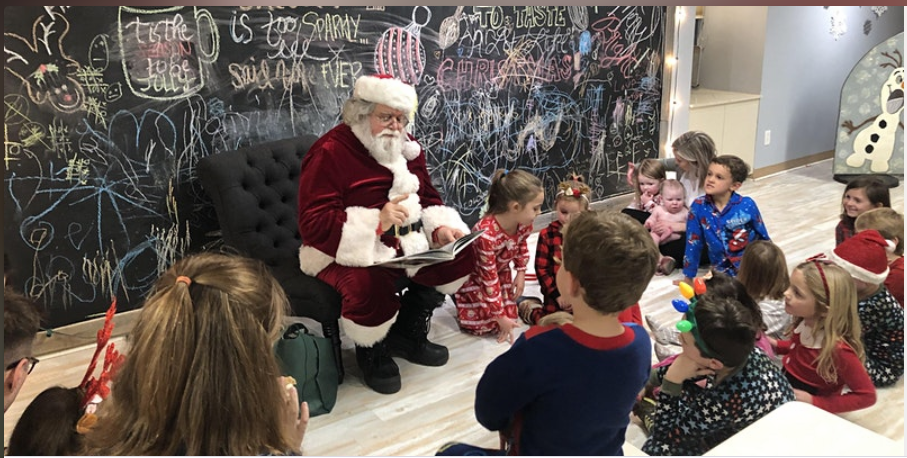 SANTA CLUSE IS COMING TO…..SWEET OCCASIONS! The big man himself will be here on December 10 for a very special 1 night only event! There are 2 timeslots to choose from. Santa will be here to take photos, listen to wish lists & read a Christmas story to the children! Don't miss your chance to get personal with Santa! A night sure to be extra special for that special child in your life! We'll have warm chocolate chip cookies provided by The Lucky Cupcake Company as well as milk! Christmas tunes will also be playing!
It's that time of year again! The highly anticipated holiday cookie night is back! Come into Sweet Occasions for a fun, relaxing evening of cookie baking and decorating! We've done all the hard work ahead of time involving preparation. Enjoy a glass of wine, holiday drink, or hot chocolate. Bring your family members and friends with you. The more, the merrier!! You will get the opportunity to bake cookies and then decorate them! We'll have a variety of all your favorite holiday flavors. Once complete, you'll box them up and take them home! Each guest leaves with about 4 dozen delicious cookies!!
Space is limited. Adults only event. If the December 14 event becomes full, we may open up another session.
This year if you want to come for a private event with your group of 10-15 to bake and decorate our favorite Holiday cookies please e-mail sweetoccasions@theluckycupcakecompany.com .
Families, friends, and kids of all ages will have a chance to decorate their very own Gingerbread House for the holiday season! We put an ease to the Christmas tradition by doing the hard work for you. Leave the mess and headache for us and enjoy using homemade royal icing and mounds of multi-colored candies to create a treasured piece of work. Houses will be pre-assembled by our staff for easy decorating.
Admission for one house includes: 1 Gingerbread house, royal icing, plenty of sweets to decorate your masterpiece, and hot chocolate!